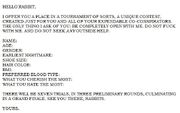 In the video "Ryan & the SEVENTRIALSOFHABIT" it was revealed that Ryan had received an email from the email address seventrialsofhabitSPLATgmail.com. The morning of his death he sent a screen cap of the email to Vinny, who read it on camera during that video. The transcript is as follows:
"HELLO RABBIT,
I OFFER YOU A PLACE IN A TOURNAMENT OF SORTS, A UNIQUE CONTEST, CREATED JUST FOR YOU AND ALL OF YOUR EXPENDABLE CO-CONSPIRATORS. THE ONLY THING I ASK OF YOU: BE COMPLETELY OPEN WITH ME. DO NOT FUCK WITH ME. DO NOT SEEK ANY OUTSIDE HELP.
NAME:
AGE:
GENDER:
EARLIEST NIGHTMARE:
SHOESIZE:
HAIR COLOR:
BMI:
PREFERRED BLOOD TYPE:
WHAT YOU CHERISH THE MOST:
WHAT YOU HATE THE MOST:
THERE WILL BE SEVEN TRIALS, IN THREE PRELIMINARY ROUNDS, CULMINATING IN A GRAND FINALE. SEE YOU THERE RABBITS.
YOURS."
In Ryan's email to Vinny, he said that he had completed the questionnaire and returned it. The reply asked him to provide a pint of his own blood.
The reply to those who have applied was:
WELCOME, RABBIT#---. AWAIT FURTHER INSTRUCTION.
YOURS.
A later unsigned tweet stated that no more applications would be accepted.
The HABIT (SEVENTRIALS) Twitter
Edit
HABIT created his/its own twitter for the purpose of the tournament. The first "trial" was announced on November 29. More information on the tournament iself can be found here.
External Links
Edit