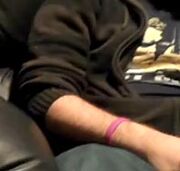 On June 25, 2010 the EMH Twitter feed announced the following: "We're giving away EverymanHYBRID wristbands to the first 100 HYBRIDS to email their shipping address to EMHpromosSPLATgmail.com!"
Though the 100 slots very quickly filled, the wristbands were never sent out. The guys made excuse after excuse in the next few weeks to cover themselves, but the wristbands never appeared. In the 11/26 UStream they blamed it on the distributor who has not provided them with the merchandise, but at the time they said that they did intend to distribute them when they received them.
Since then the guys have been seen in three videos wearing purple wristbands. First in The Update HUB where all three of them can be seen wearing them, and again in December & early January where Vince can be seen wearing one in the final segment of the video. Steph is wearing one in The Hidden Videos.
They have not publicly addressed why the wristbands have not been distributed if they have been received.

On March 16, 2011
stormoftara,
the second winner in the
Self Defense
promotion contest, announced on the SA Forums that she had received a wristband, and a letter from Jeff as an apology for her missing prize from that contest. To date she is the only fan to have received a wristband.