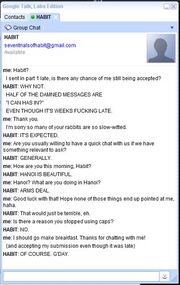 Since the beginning of the Trials, HABIT has become quite a bit more verbose and has even been willing to interact directly with the Rabbits via email and Gmail Chat. Several of the Rabbits have shared their chats with the community at large, and some surprising tidbits can be gleaned from these chats.
Due to the individual nature of these chats it has been hard to gather them all and what is represented here is only a sampling. The chats are also often undirected and rambling and generally only one or two questions are revealing. This page will act as an Index to highly relevant portions of the chats, click through to the individual pages to see the full chat logs.
Chats with Agnol117
Edit
HABIT admits to being uncomfortable with technology.
HABIT refers to himself as "HUMANITY'S BAD HABIT."
HABIT claims to have appeared on camera in EMH videos.
Full logs of Chats with Agnol117
Chats with JediFox
Edit
HABIT says that we will learn "IN TIME" exactly what happened to Ryan.
HABIT says that he eliminated Rabbits 151-153 because they were "inept" and that Rabbit #160 withdrew from the trials after an incident during the filming of Trial 1 scared them.
HABIT says the goal of the Trials is "BODY COUNT."
Full logs of Chats with JediFox
Chat with Verdett
Edit
In an email Verdett asked HABIT about the low returns on Trial Three and what would happen if no Rabbits were left before the end of the Trials. The reply was chilling:
YOU HAVE TO ASK YOURSELF: WHAT ARE YOU ALL PLAYING FOR, TO BEGIN WITH?
IF NO CONTESTANTS REMAIN, THESE TRIALS WILL COME TO AN END.
AS LONG AS THERE ARE MULTIPLE RABBITS, THE GAMES SHALL GO ON.
HOPE I HAVE CLEARED A FEW THINGS UP.