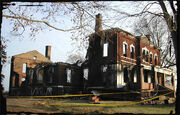 Fairmount Children's Home
was built in 1876 to provide a temporary home for indigent Ohio children under the age of 16 where they would be provided with physical, mental and moral training until permanent homes could be provided. The orphanage was built on 154 acres of farmland and consists of the main building, five cottages, school, chapel, laundry, detention house, barn, slaughterhouse, boiler house, and other outbuildings.
The farm was mostly self-sustaining, a considerable portion of it was cultivated by the older boys, who were required to assist half of each day. The smaller children cultivated small fruit or helped in the gardens. The boys also cared for a herd of cows that supplied the orphanage with fresh milk & butter. The girls were schooled in needlework and made all of the clothing needed by the inmates. The older girls also assisted in the kitchen, dining room and with the laundry.
In the mid 1970's, after one-hundred years and thousands of orphans, the Fairmount Children's home was closed.
The home burned down on December 2, 2002 in a suspicious fire.
Relevence to EMH
Edit
Dr. James Corenthal once worked at Fairmount Children's Home, where he worked with several young patients that came from "the town of ash" (Centralia, PA) after the mining town was declared unsafe and residents were evacuated. Four of the children share names with the EMH crew (although the connection between them is currently unknown). One other child, Linnie, is also mentioned as having been taken in by Dr Corenthal but whether she came from Fairmount as well is unclear.
All of what we know about Dr. Corenthal and his work at Fairmount comes from his letters, which have been found in caches or sent in the mail from an unknown source.
External Links
Edit